ANGÈLE DUBEAU
O.C., C.Q., O.M., DFA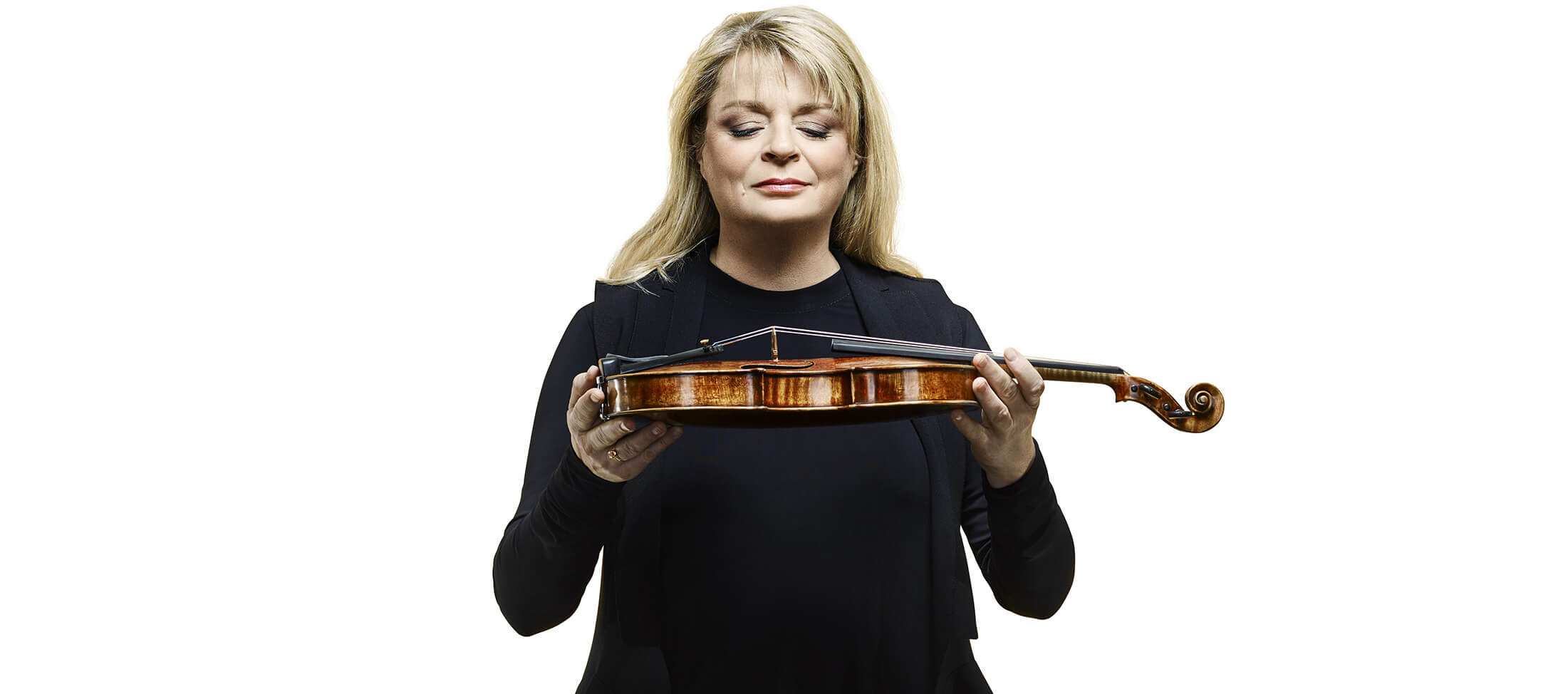 She is all a soloist should be.
Toronto Star
Precise attacks, excellent ensemble playing and energy… One would think oneself magically transported to the blessed era of the Solisti di Zagreb… passion, presence… The musicians' smiles are contagious.
Le Devoir (Montreal)
Angèle Dubeau and her gifted ensemble of musicians play with such radiant warmth and sensitivity that it is impossible to imagine the work better performed.
The Strad (London, UK)
Dubeau plays everything with alluring sweetness and sophistication and her colleagues match her tender, inflected playing note for note.
Gramophone (London, UK)
Regardless the format, Angèle Dubeau is formidable.
The Gazette (Montreal)
If Angèle Dubeau and La Pietà didn't exist, we would need to invent them!
Le Soleil (Quebec City)
Dubeau is an exciting, dynamic fiddler… The performances were consistently robust and inquiring, taking nothing for granted… Dubeau's well-drilled band played with agility, power, a nicely weighted sound and a fierce joy in the doing.
Los Angeles Times
Rich and vibrant, and performed with a passion.
BBC Music Magazine (London, UK)
This ensemble has everything. Lyricism? Got it. Excitement? Got it. Style? Got it. Élan? Got it. Enthusiasm? Got it. It's the hottest chamber ensemble around.
Soundstage Magazine (Ottawa)
Angèle Dubeau has pursued a career as a classical musician for over 40 years and has played in as many countries, always with the same passion, zest and generosity. Beyond her virtuosity as a musician, this exceptional woman has other qualities that have earned her a special place in the hearts of her public. From the very first notes she plays on the Stradivarius she calls Arthur, the audience is won over by her captivating playing and her gift for sharing her passion for music. As a citizen, musician, artistic director and communicator, Angèle Dubeau has left her mark on Quebec society through her continuing involvement, her artistic reach, and her ability to weave long-lasting links with the public.
Angèle Dubeau was introduced to the violin at a very early age, giving her first concert at the age of 5, and entering the Conservatoire de musique du Québec à Montréal at the age of 8. "As far back as I can remember, music has been part of my life," she says. "When I was very young, I realized that music, through its grandeur and its strength, could reach out across the language barrier and touch people from all cultures." At the age of 15, she was awarded First Prize with honours at the Conservatoire (the equivalent of a master's degree) and after winning other grants and distinctions, she continued her studies at the Juilliard School of Music in New York, before going to Romania to perfect her art.
Angèle Dubeau is as deeply convinced as ever of the need to lead the general public to a better understanding of music. She devotes herself to making it accessible by reaching across borders, generations and backgrounds. "I like to think that music is a universal treasure that almost everyone can share," she explains. In addition to the numerous concerts she gives, this truly passionate musician communicates her love of music and culture through televised musical broadcasts, programs aimed at a young audience, popular concerts and Fête de la Musique de Tremblant. This festival, which she founded more than 20 years ago, highlights Canadian artists and their works and attracts over 40,000 music lovers annually. "Contact with artistic creations opens up our senses and colours our lives," she declares.
As the conductor of the all-female Canadian string ensemble La Pietà, Angèle Dubeau has introduced works to an ever-growing public from a repertory drawn from Canadian composers, all the while respecting their interpretations. This sensitive and generous woman is a believer in commitment to one's community. "I have an unshakeable belief in the power of art to save humanity," she says. Powered by this humanistic philosophy, she employs her talent as a conductor to transmit her passion and musical knowledge in concerts given to audiences of schoolchildren. She provides these young people with an experience as remarkable as it is enriching. The ensemble also visits centres for children and for the elderly, in addition to taking part in activities on behalf of cultural organizations and foundations.
The virtuosity and high level of musical interpretation displayed by Angèle Dubeau are also evidenced in her recordings, as proven by her discography, which reveals the richness of her repertory and the breadth of her talent. She is one of the rare classical musicians to have received several Gold records in her career. To date, she has released more than 40 albums, sold over 600,000 copies and her recordings have been streamed more than 80 million times. Over the years, she has won numerous national and international prizes, in addition to being awarded the highest distinctions by the City of Montreal, the Province of Quebec and Canada.
Whether alone, with her own all-female ensemble or with other large orchestras, Angèle Dubeau has performed not only in the world's largest cities but also in its smallest— in places that have only rarely, or never, had access to concert music.
Still at the peak of her craft, Angèle Dubeau continues to pursue her mission to share music all over the world. "After all these years, what makes me the happiest is knowing that my music is accompanying you in your lives, in your daily activities, and in your small and great moments," says this artist who continues to touch, dazzle, and amaze us, and whose sole wish is to be able to do so again and again.
© Prix du Québec
Translation: 37e Avenue

For her talent and her exceptional contribution to the country, Angèle Dubeau has been appointed and has received:
2012 – Officer

of the

Order of Canada

(Member of the Order of Canada since 1996)

2004 – Knight of the

Ordre national du Québec

 

2018 – Officer of the

Order of Montreal

1996 – The Calixa-Lavallée prize from the Société Saint-Jean- Baptiste de Montréal

2002 – The Queen Elizabeth II

Golden Jubilee

Medal

2012 – The Queen Elizabeth II

Diamond Jubilee

Medal

2015 – A

Doctorate

honoris causa from Concordia University's Faculty of Fine Arts (Montreal)

2018 – The

RIDEAU Hommage

price from the

réseau indépendant des diffuseurs d'événements artistiques unis

2018 –

Compagne des arts et lettres du Québec

2019 –

Prix Denise-Pelletier

, Prix du Québec in performing arts
Angèle Dubeau plays on the "Des Rosiers" Stradivarius violin (1733).
Career highlights
MORE THAN 80 MILLIONS STREAMS TO THIS DAY
MORE THAN 600 000 ALBUMS SOLD
MORE THAN 40 YEARS OF CONCERTS IN 40 COUNTRIES
GOLD RECORD for the album On Wings of Song (1995)
GOLD RECORD for the album Infernal Violins (2007)
GOLD RECORD for the album A Time for Us (2012)
Many "Recording of the week" mentions in classical radio programs in the US and Europe
At the ADISQ Gala: 17 FÉLIX PRIZES FOR "CLASSICAL ALBUM OF THE YEAR"
These albums were awarded:
Album Blanc
Best Classical Album of 2014 (iTunes Canada)
Top 10 Best classical albums of 2014 (Classic FM Radio, Londres)
Top 15 favourite CDs of KDFC in 2014 (KDFC Radio, San Francisco)
Top 10 Most-Coveted New Classical Tracks Albums of 2014 (Minnesota Public Radio)
Album Portrait: Ludovico Einaudi
Best contemporary classical violin album in the world of 2015 (iTunes)
Top 10 best albums of 2015 (ArkivMusic Magazine)
Angèle Dubeau
& La Pietà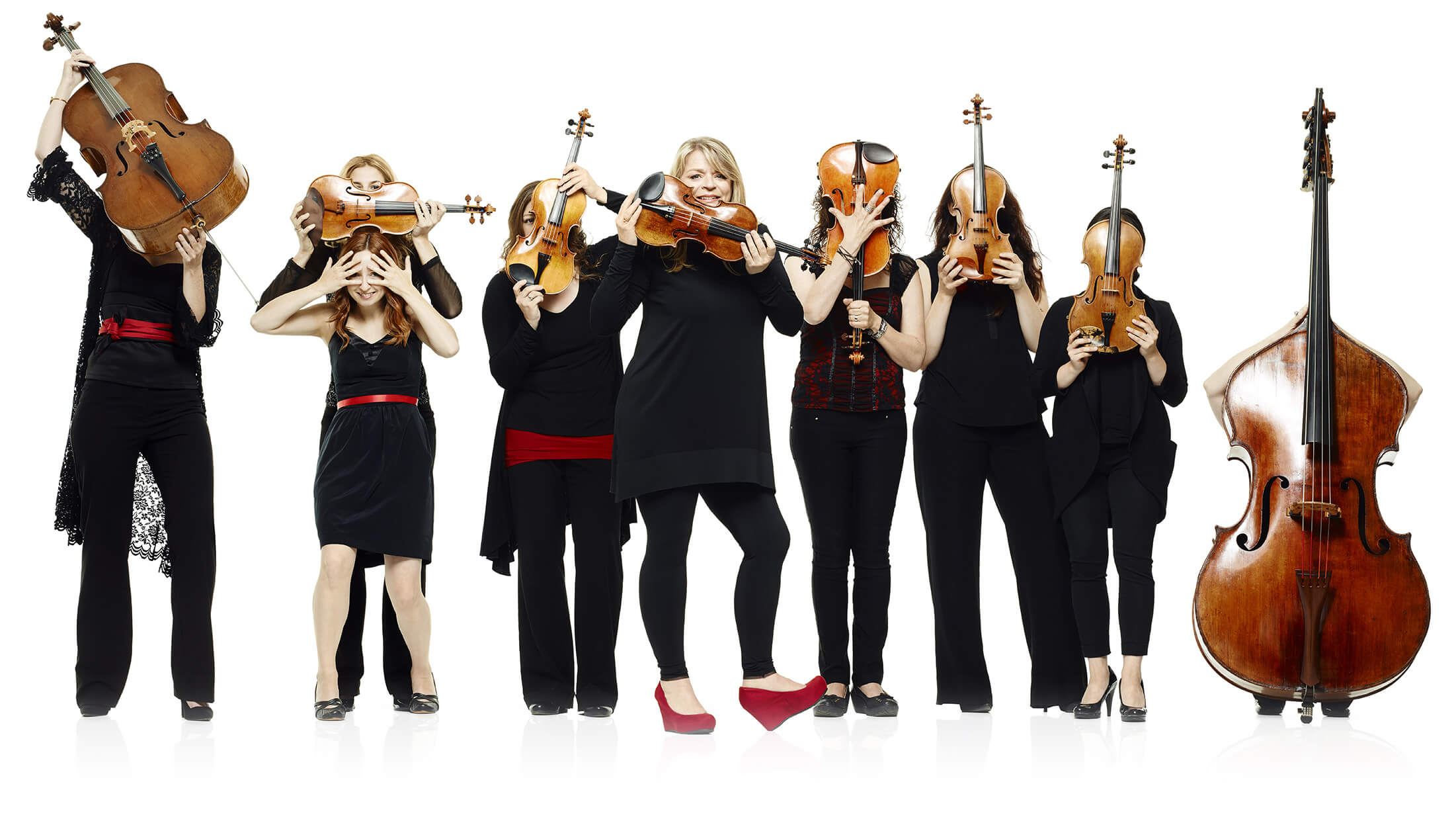 Driven by the desire to innovate, Angèle Dubeau founded La Pietà in 1997, an all-woman string ensemble featuring some of Canada's best musicians. What she could not have known at the time was that this experiment, originally conceived of for periodic recordings, would gradually become a full-time occupation. From early on, the ensemble gained a solid reputation, playing Canada's most prestigious venues and on television. Known for their exceptional virtuosity and impeccable precision, their rich interpretations, and above all the contagious happiness that enlivens their stage presence, Angèle Dubeau & La Pietà have crisscrossed the world for over 20 years.
Organization
Angèle Dubeau & La Pietà
Mandate
Angèle Dubeau & La Pietà is a non-profit organization founded in 1997. La Pietà's mandate has never changed: Perform and release exceptional music to the widest audience. The orchestra draws from a broad range of cultural influences, but whatever the repertoire, it focuses on uncompromising excellence of performance. The orchestra's ever-growing audiences enjoy its performances of original, diverse, and refined works in both classical and contemporary traditions.
Mission
From the start, La Pietà's mission has concentrated on an ongoing quest for virtuosity, aimed at making outstanding music accessible to all audiences while offering new repertoires drawn from a wide variety of musical influences. Invariably acclaimed by critics and audiences alike, La Pietà performs its programs on national and international concerts and makes them available worldwide on physical and digital media.
A brief history
Like the Venetian orphanage Ospedale della Pietà, La Pietà is an ensemble of strings and piano made up entirely of women. The orchestra's musicians come from our best schools and are among the finest performers in the country. A prominent violin virtuoso, Angèle Dubeau remains the artistic director of the orchestra she founded in 1997. An extraordinary artist, Dubeau has nobly represented Canada, garnering numerous national and international awards along the way. A visionary leader, she constantly pursues the goals of excellence and artistic boldness.
Since the group's founding, Angèle Dubeau & La Pietà have recorded 20 albums, all of which have topped the Canadian charts. By recording period works from a variety of styles and composers, La Pietà has been able to appeal to a broad audience and earn a loyal following. Over the years, Dubeau's  talent for creating programs with engaging themes has proved to be a competitive advantage for La Pietà. When put on stage, these thematic programs are guaranteed to draw audiences to the group's concerts, and they provide an exceptional showcase through international promotion.
Board of Directors
Chairman
J.Serge Sasseville
Senior Vice President
Corporate and Institutional Affairs
Québecor Média
Directors
Anne-Marie Belanger
Partner Services-conseils financiers
BDO Canada LLP/s.r.l./S.E.N.C.R.L.
Louise Ménard
President Groupe Méfor inc.
and Corporate Director
Pierre Seccareccia
Corporate Director
Sarah Woods
Partner
Woods s.e.n.c.r.l.